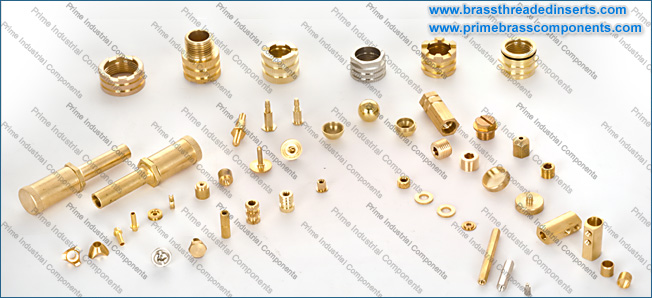 Welcome to the world of brass threaded Inserts
Prime Industrial Components
is a leading manufacturer of Brass inserts based at brass city of Jamnagar, Gujarat, India. Our Product suits to all industrial sectors like Plastic Moulding Industries, Sanitary Fittings Industries, PPR Pipe Fitting, PVC, CPVC Pipe Fittings, Electrical & Electronics, Automobiles, Home Appliance and Industrial Applications.
Being an
ISO 9001 certified company
& in the field of manufacturing activities since 12 years, Enhancing TQS & arranging learning opportunities for all employees by Training Policy followed by health & environmental policies. Our honorable clients are based in USA, UK, Europe, Africa and Middle East.
We are an eminent manufacturer and exporter of excellence brass components, brass inserts, brass fasteners, brass electrical pin and sockets and brass energy meter parts. With long-term experience in this field of
precision brass components
, we have established strong foothold in the international market.
We are manufacturer of threaded inserts for plastics. We involve an
entire line of brass inserts
for all method of fitting, as well as:
ultrasonic, heat, thermal, and press-in and mold-in
. Prime can also custom design and manufacture threaded inserts for most purpose. Our company stocks large stock of the most accepted style of brass inserts, which consist of Tapered Inserts, Straight Hole Inserts, Symmetrical Inserts. Our standard line is brass in a variety of styles and sizes. Our
threaded inserts
start at 1/8" for inch threads and M1.6 for metric threads. We recommend the most extensive variety of lengths for ultrasonic inserts and thermal inserts in the engineering. Our Product range also includes brass male female inserts for
PPR Fittings
,
CPVC Fittings
, UPVC Fittings and PVC Fittings.